10 Things I Loved About FROSTBLOOD by Elly Blake
Submitted by chelsea on Tue, 05/17/2016 - 15:38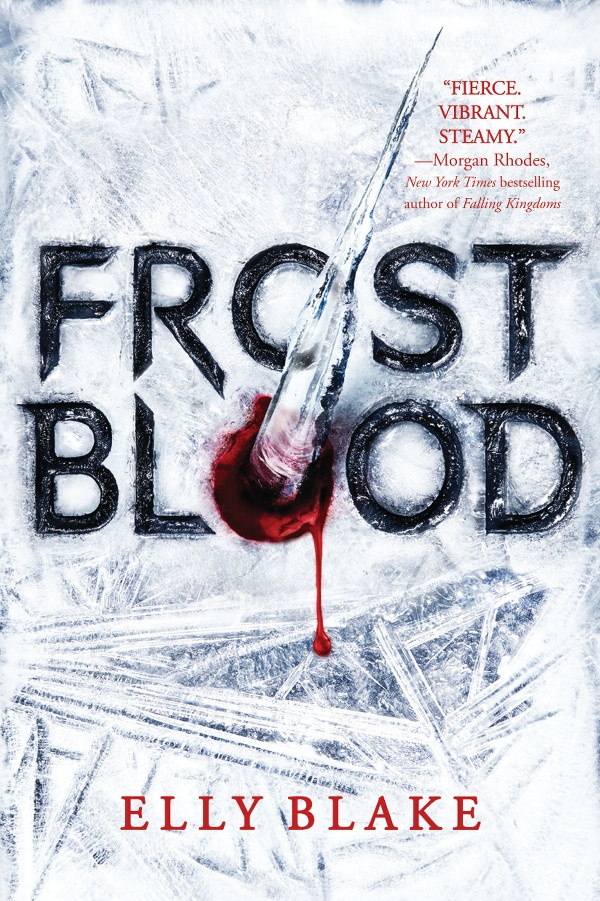 Seventeen-year-old Ruby is a fireblood who must hide her powers of heat and flame from the cruel frostblood ruling class that wants to destroy all that are left of her kind. So when her mother is killed for protecting her and rebel frostbloods demand her help to kill their rampaging king, she agrees. But Ruby's powers are unpredictable, and she's not sure she's willing to let the rebels and an infuriating (yet irresistible) young man called Arcus use her as their weapon. All she wants is revenge, but before they can take action, Ruby is captured and forced to take part in the king's tournaments that pit fireblood prisoners against frostblood champions. Now she has only one chance to destroy the maniacal ruler who has taken everything from her and from the icy young man she has come to love.

Fast-paced and compelling, Frostblood is the first in a page-turning new young adult three-book series about a world where flame and ice are mortal enemies—but together create a power that could change everything.
1. The writing. The beautiful, poetic writing that captivated me from the very first line.
2. A flawed main character. Ruby isn't perfect. FROSTBLOOD doesn't begin with her being a powerful, confident fireblood. Sometimes she makes bad choices. Sometimes she lets her emotions drive her actions. And that's exactly what makes her feel so real—and what made me fall in love with her.
3. Having a compelling main character is key. But I always appreciate books that go the extra mile with the supporting cast as well. I adored Ruby, but I loved the people surrounding her just as much. All of the characters in FROSTBLOOD came to life for me. (And I was especially fond of Brother Thistle.)
4. The love story. I like that it wasn't too, well, easy. Most relationships aren't super straightforward (or perfect), and it made me that much more invested in it, and anxious to see Ruby end up with the right person.  
5. The fascinating fireblood/frostblood creation myth. Elly Blake didn't skimp when it came to creating a rich, vibrant world—and the legend of how that world came to be was fantastic.
6. The visuals. You know how sometimes you read a book and the descriptions are so vivid and so cool that you get angry because you can't actually see what's going on? Yeah. It was like that.  
7. An awesome protagonist needs an awesome villain to go up against. FROSTBLOOD delivered. As someone who has always been partial to the bad guys, I'm happy to report that this book had one who was very easy to fall in love with.
8. The heart pounding actions sequences. This book has a little bit of everything—there were parts that made me laugh and parts that made me teary and parts that were just plain cool. But it was the action scenes that had me on the edge of my seat, completely incapable of putting the book down.
9. The ending. I'll keep this post spoiler-free… But wow. The ending.
10. Finishing the book was bittersweet. As much as I enjoyed the conclusion, I was sad to reach the end. So I suppose one of my very favorite things about FROSTBLOOD is that there's going to be a second book. I'll be (not so patiently) waiting for it.