10 Things I Loved About THE ONLY THING WORSE THAN ME IS YOU by Lily Anderson
Submitted by chelsea on Fri, 02/19/2016 - 11:40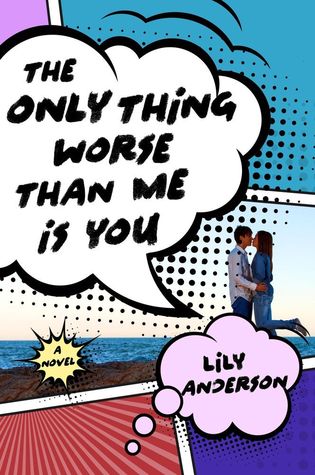 Trixie Watson has two very important goals for senior year: to finally save enough to buy the set of Doctor Who figurines at the local comic books store, and to place third in her class and knock Ben West--and his horrendous new mustache that he spent all summer growing--down to number four.
Trixie will do anything to get her name ranked over Ben's, including give up sleep and comic books--well, maybe not comic books--but definitely sleep. After all, the war of Watson v. West is as vicious as the Doctor v. Daleks and Browncoats v. Alliance combined, and it goes all the way back to the infamous monkey bars incident in the first grade. Over a decade later, it's time to declare a champion once and for all.
The war is Trixie's for the winning, until her best friend starts dating Ben's best friend and the two are unceremoniously dumped together and told to play nice. Finding common ground is odious and tooth-pullingly-painful, but Trixie and Ben's cautious truce slowly transforms into a fandom-based tentative friendship. When Trixie's best friend gets expelled for cheating and Trixie cries foul play, however, they have to choose who to believe and which side they're on--and they might not pick the same side.
1. The humor. From the very first page, I was giggling like an idiot at Trixie's sarcastic insights.
2. This book was filled with banter that wasn't just funny—it was also ridiculously smart. Sigh. I could spend all day listening to Trixie and Ben verbally spar.  
3. Which brings me to the love story: Call me crazy, but I'd take nerdy, witty Ben over a typical leading man any day. And I've always been a sucker for love-hate romances. I was rooting for Trixie and Ben from the get-go.
4. THE ONLY THING WORSE THAN ME IS YOU follows the story of MUCH ADO ABOUT NOTHING. Modernizing Shakespeare can be tricky, but Lily Anderson handled it beautifully.
5. And if Shakespeare isn't your thing, well, this book has enough pop culture references to satisfy the nerd in all of us. (In fact, this should be a game. First person to spot every single reference wins.)
6. Though Trixie and Ben are my favorites, this book also has a lot of supporting characters—and every one of them felt real to me. I particularly loved Trixie's two best friends. Not only were they great characters, it was also refreshing to read about female friendships that weren't a mess of jealously and pettiness.
7. Trixie's prom dress (or winter ball dress, rather?). Whatever you want to call it, that dress NEEDS to exist in real life. Someone?
8. The characters attend a school for geniuses. It's both fascinating and terrifying. And while the school in the book might not showcase the typical high school experience, I think most teenagers can relate to the pressure to get good grades, apply for the right colleges, and so on.
9. THE ONLY THING WORSE THAN ME IS YOU isn't a mystery, there is a mystery in it. And the tension leading up to the solution of said mystery had me on the edge of my seat. Love stories are always more thrilling when there's a bit of intrigue woven in.  
10. My favorite thing about this book is that I know, without a doubt, that teenage-me would have fallen completely in love with it. I would have spent the rest of my time in high school wishing for a best friend like Trixie and a boyfriend like Ben. I also would have taken comfort in the fact that Trixie is nerdy, and proud of it. She makes it clear that being different is okay. Better than okay, even. Being different can be awesome. Basically, Trixie is a nerd-girl hero.